Aktuelles
…Of the eight pieces in total, several are for viola solo, which gives the listener an ample opportunity to enjoy her sonorous, one is almost tempted to say, juicy sound for almost a whole hour. It becomes easy to understand the music lovers who have a special predilection for viola…
Kristeligt Dagblad Copenhagen 9/2021
Kristina Fialova´s new CD "Lady Viola" is released! It includes only pieces written by female composers such as Bacewitz, Bodorova, Clarke, Fuchs, Paradis and Vorlova for viola solo, viola and piano (with Jitka Čechová) and viola and clarinet (with Anna Paulová).
The Cd is releaed by Arcodiva label and distributed by Naxos. More info here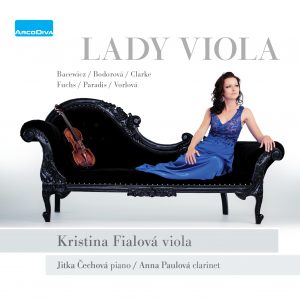 Kristina Fialová – viola, Petr Nouzovský – cello
Program – J. S. Bach, A. Dvorak, P. Fiala, A. Skoumal, R. Haas, A. Piazzolla
Watch the whole concert here 
Suk´s hall, Rudolfinum, Prague, 15. 12. 2020
…As it turns out, these young musicians' reading of Verklärte Nacht is wonderfully intense, one of the best performances I've ever heard…
New "Covid" Cd project with music of Schoenberg and Tchaikovsky has been released! Cd was recorded live in April 2020 with facemasks from a charity concert for NF Impuls in empty Rudolfinum.  You can get it here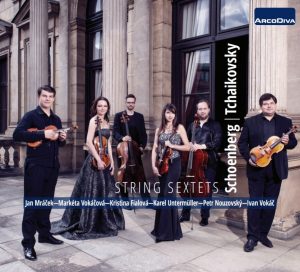 "…Liebhaber des dunkel samtigen Klanges der Bratsche kommen mit dieser Produktion der tschechischen Violakönigin Kristina Fialová voll auf ihre Kosten…"
Klassik
"…Fialová und Ardašev zelebrieren dieses Idiom mit höchster Leidenschaft und bemerkenswerter Energie. Das Ergebnis ist eine wirklich mitreißende CD, die den Hörer in eine Welt entführt, die ihm bisher kaum oder gar nicht bekannt gewesen sein dürfte…"
Rondo magazine
"…Harold in Italien von Hector Berlioz wurde untypisch zum Einstieg gespielt. Im Viola-Part glänzte Kristina Fialová, hervorragende junge Solistin, die die traumhafte Atmosphäre mit vollem Klang und absoluter Harmonie und Disziplin ohne jegliches Zögern, Beben oder Ausschweifungen gestaltete."
City of Music