New CD Schoenberg/Tchaikovsky – String Sextets!
New "Covid" Cd project with music of Schoenberg and Tchaikovsky has been released! Cd was recorded live in April 2020 with facemasks from a charity concert for NF Impuls in empty Rudolfinum.  You can get it here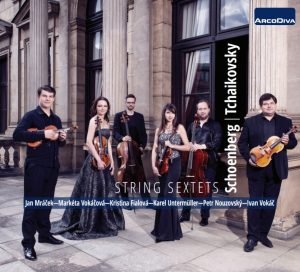 "…the 'tendernessful' (if such a word may be allowed to exist) beauty of the viola sound, resourceful agogics and inexhaustible variations in both dynamics and tempo gave Hindemith's music a whole new dimension, most attractive to the ear…"
Hudební Rozhledy 6/2016
"…Kristina Fialová's refined taste matches up with her interpretive approach to the compositions selected and gives her temperament, natural virtuosity and emotionally engaged tone of her instrument an opportunity to shine…"
Harmonie 10/2015
"…after that, the reigning queen of Czech viola came to the stage and performed an Ostrava resurrection of one of the greatest cinematographic composers of all times…"
Ostravan 3/2015